English 795 Blank
Charles Bernstein
Fall 2018
The "blank" seminar is an occasion for exchange among participants. There will no pre-existing syllabus. Each meeting will be animated by the concerns of those present, extended into an active listserv discussion between meetings.  Participants will determine the course of the discussion and reading week to week, posting their own work and suggested reading. A few sessions will be devoted to workshopping essays by participants, perhaps going over a single paragraph in depth and considering alternatives, as in Queneau's Exercises in Style. The open-ended discussion will range from the political and cultural moment, pedagogy (wreading experiments, poem profiler), as well as historical and contemporary particulars of poetry and poetics. Collaborations welcome.
An ongoing theme will be negative dialectics and the poetics of blank in its many and shifting senses. "Nothing is the force that renovates the world." Perhaps together we can make "nothing happen."
Norbert Lange, German poet and translator of Oppen, Rothenberg (and me), will read at KWH for the first part of our Oct. 30 meeting and join us for the second part, possibly doing a group translation. Eugene OBERU group (Kharmes, Vvedensky) and Alexander Skiddan, will be joing the group on another evening.

A requirement for the class will be an original work (which may include section of a dissertation). Sections to be posted over the course of semester.
Each member of the group will suggest one set of reading, which will be added here.
Possible reflections might begin with
Syllabi 1989-2018
Great Moments in Tache Blanc" & "this poem intentionally left blank"
Stéphane Mallarmé (1842-1898), Un coup de dés 

Duchamp: Fresh Widow (1920) & 1916-17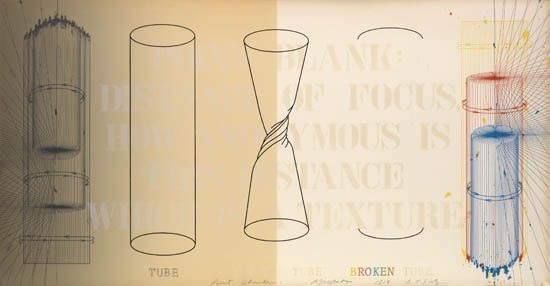 Arakawa, Point Blank (Tube, Twisted Tube, Broken Tube), 1968