English 795 Comp Lit 622
Blank
Charles Bernstein
Fall 2018
The "blank" seminar is an occasion for exchange among participants. There will no pre-existing syllabus. Each meeting will be animated by the concerns of those present, extended into an active listserv discussion between meetings.  Participants will determine the course of the discussion and reading week to week, posting their own work and suggested reading. A few sessions will be devoted to workshopping essays by participants, perhaps going over a single paragraph in depth and considering alternatives, as in Queneau's Exercises in Style. The open-ended discussion will range from the political and cultural moment, pedagogy (wreading experiments, poem profiler), as well as historical and contemporary particulars of poetry and poetics. Collaborations welcome.
An ongoing theme will be negative dialectics and the poetics of blank in its many and shifting senses. "Nothing is the force that renovates the world." Perhaps together we can make "nothing happen."
Blank though it's called, some events are scheduled.
1. First meeting August 28. FBH 222. 6pm to 8:50pm.
2. Sept. 4 BLANK
3. Sept. 11 BLANK
4. Sept. 18 BLANK
5. Sept. 25: We will attend the launch/reading for David Bromige's if wants to be the same as is: The Essential David Bromige at the Kelly Writers Housem at 6pm. We will continue on at KWH Room 202 with "blank."
6. Oct. 2 BLANK
7. Oct. 9 BLANK
8. Oct. 16 BLANK
[Rae Armantout Oct. 17 at 6 at KHW]
[Disability Poetics a Oct. 18, organized by Orchid Tierney and Ari Resnikoff]
9. Oct. 23: Douglas Kearney will be speaking at KWH as part of Davy Knittle's City Plannng Poetics series. Kearney will be joined by Brian Goldstein. Kearney will stay on to talk with us and Davy will also fill us in on his approch to poetics and urban planning. Kearney reads the night before at KWH. We will say on with Kearney at KWH, room 202
10. Oct 30 Norbert Lange at KWH. We will likely work on a collective translation with Lange after his reading, as we will stay on with him at KWH. Coordinated with Adam Sax. Lange, German poet and translator of Oppen, Rothenberg, and me will read at 6 and join us, after the reading, in KWH 202, at which time we can possibly doing a group translation or otherwise talk about the poetics of translation.
11. Nov. 6: BLANK
12. Nov. 13 Eugene Ostashevsky, poet and translator of the OBERU group (Kharmes, Vvedensky) and Alexander Skiddan, will be joing the group as our special guest at FBH 222, hosted also by Kevin Platt. Ostachevsky lives in Berlin but is in New York for this semester. He reads the next day at noon at KWH.
Nov. 20 NO CLASS
13. Nov. 27 BLANK
14. Dec. 4

A requirement for those taking the class for credit will be an original work (which may include section of a dissertation). Sections to be posted over the course of semester. We hope for the same from those attending without being enrolled for credit.
Each member of the group may suggest a set of reading, which will be added here. How -- or if -- we address such suggested reading will be discussed as part of the seminar.
Possible reflections might begin with
My final undergrad class, this semester, Echopoetics
Syllabi 1989-2018
Great Moments in Tache Blanc" & "this poem intentionally left blank"
Stéphane Mallarmé (1842-1898), Un coup de dés 
CALENDAR
participants send me events to list here (under constuction)
October 17 -- Rae Armantrout reading KWH, 6pm
October 18 -- Disability Poetics confernce, organized by Orchid & Ari, with Michael Davidson, Jennifer Bartlett, and others. 10am to 6pm.
Nov. 1 -- Lytle Shaw and Jason Camelot on sound studies, organized by Chris
Nov. 14 -- Launch for Near/Miss at Penn Book Center, 6pm.

Duchamp: Fresh Widow (1920) & 1916-17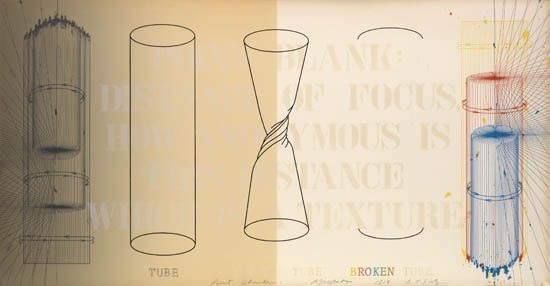 Arakawa, Point Blank (Tube, Twisted Tube, Broken Tube), 1968