French Book Art/Livres d'Artistes: Artists and Poets in Dialogue
through August 19, 2006
New York Public Library
42nd Street & Fifth Avenue
This must-see show of poet-artist collaborations is one of the best exhibitions of modernist-era book art to be seen in recent years in the U.S. The first half of the show has one hit after another – from touchstone works such as Mallarmé & Manet's inaugural Le Corbeau (1875), after Edgar Poe's "The Raven":

and also their L'Après-midi d'un faune (1876) to Alfred Jarry's Ubu Roi (1896):
& on to Apollinaire's first published book, with André Derain, L'Enchanteur pourrissant (1909) & of course his Calligrammes. The tour continues with two versions of the Blaise Cendrars & Sonia Delaunay's La Prose du Transsibérien et de la petite Jehanne de France (1913):
And then on to Max Jacob with both Derain and Picasso, Tristan Tzara with Marcel Janco and Arp, Reverdy & Matisse, a beautiful and surprising concrete-like visual poem-painting by Léger, Leirs & Masson, Masson& Desnos, Eluard & Ernst, Péret & Tanguy, Duchamp of course, interesting collages by Georges Hugnet.
A surprise and highlight here is the Wilfredo Lam/Andre Breton Fata Morgana, published in Buenos Aires in 1942, by Roger Callois.
In the postward period one of the highlights is a small Situationst collection, featuring works by Asger Jorn and Guy Debord, including their collaborative Mémoires (1959); previously I have only seen the facsimile, so this was a treat; the artist's book may be best known for it sandpaper covers, but it is, well, exquisite, in its own sublimated/desublimating way (the image is from the facsimile):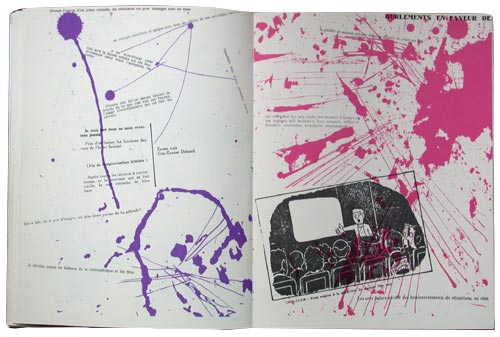 But I was also delighted by the vibrantly colorful setting of Eluard by Léger, in their 1953, Liberté j'ecris ton mon:
The final portion of the exhibition lags a bit, moving away from poet-artist collaboration and into the more staid "livre de artiste" that are in many ways more an extension of the print market for the visual artists than the giddy, brilliant work of the modernist period; though still in this section you will find works by Bernard Noel, Jean Fremon, and Dominique Fourcade.
The show was conceived by Yves Peyré of the Bibliothèque littéraire Jacques Doucet and many of the works come from this collection. There is also an amusing exhibition of author and artist photos in the center in the gallery.
Worth a detour.